Some Information
Attend from the comfort of your own home!
Is Zoom free? When you sign up for a zoom account, it will mention that you need to have a paid upgrade for a meeting of more than 2 connections for more 40 minutes. You DO NOT need to pay to attend. Trailblazers has already done that for you.
What do we need? Any computer or smartphone with a camera available can be used to connect.
Time Changes: Trailblazer meetings are held each Sunday and lasts for 1 hour and 30 minutes, from 19:00 CET/CEST (Denmark Time) until 20:30 CET/CEST, which typically is 10 AM PT and 1 PM ET, except for a few weeks each year, as Europe and US changes to and from daylight savings time at different time. To determine the current time, please go to: www.worldtimebuddy.com and compare your local time to 7pm Copenhagen, Denmark time.
More help: If you need help with zoom, there is a good article here.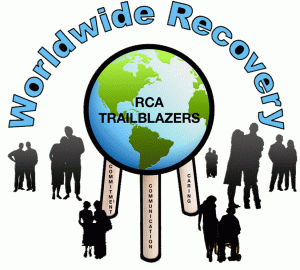 Treasury Couple
Contact: Treasurer@rcatrailblazers.org
Preparing Monthly Treasury Report for each business meeting. Details for the report are available on Paypal "reports".
Attend monthly Business Meeting to share Treasury Report with group.
After Secretary Couple notifies us, we order the Newcomer Welcome Kit from the RCA Bookstore, and pay for it via the RCA Trailblazers Paypal account. We list our phone number as contact information with the WSO for any issues with the order. We also contact newcomer couple to let them know it's been ordered.
Send donations to WSO per Group Conscience through RCA Website, paid via RCA Trailblazers Paypal account.
Pay for zoom account annually.
Responsible for any changes voted on by G.C. to our RCA Trailblazers Paypal account.
Contact List Couple
Contact ContactListCouple@RCATrailblazers.org
Receives e-mails from members requesting to be added to the contact list and provides a copies of the list as requested.
Sends out the monthly contact list to members in between meetings.
Webmaster Couple
Contact WebTeam@RCATrailblazers.org
Updates the website with any changes submitted from business meeting.
Keeps track of website, (hosting and domain) renewal information.
Serves as a back-up for Secretary couple with adding announcements to site.
Sets up email forwarding for service position changes.